Revision hip replacement
This procedure addresses failed hip arthroplasty. Total hip arthroplasty can commonly fail as a result of polyethylene wear (plastic wear), osteolysis (dissolution of the bone), recurrent instability (dislocations) or infection. Patients with hip arthroplasty need to be followed up on a regular basis to identify and treat any early failures. These failures can present with or without pain. The onset of pain in a patient with a previously well-functioning hip arthroplasty needs to be investigated and treated by a specialist.
The revision hip arthroplasty is a technically demanding procedure and results depend on the indications. The quality and quantity of host bone available at the time of such a surgery is also of paramount importance. However, surgical techniques have evolved considerably over the past decade and it is now possible to reconstruct even extensive failures.
Failed bilateral hip arthroplasties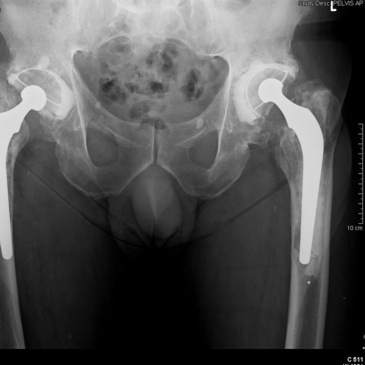 Revision Right Total Hip arthroplasty